Your Opportunity to Become a Financial Planner
Looking to expand your career within the financial advice sector and start working for yourself? In recent years, there has been an increasing public interest in wealth creation and protection strategies. As more people are seeking expert personalised financial advice, it has created an opportunity in the market for Financial Planners. Many professionals within the financial services sector are choosing to become a Financial Planner, moving into the area on a part-time or full-time basis. At Vivid Financial Planning, we can support you in this development and provide the resources and licensing you need to run your own office.
At Vivid Financial Planning, we are committed to providing our Advisors with high quality training and ongoing to support. Our experienced financial planners will provide business coaching and client assistance, and help you to become a confident professional in your own right.
Once you have completed the necessary qualifications (RG146 and a Diploma of Financial Planning), you can start our in-house training, become an authorised representative and begin working with clients.
We target a large and diverse client base, who are at different life-stages and are seeking a mix of financial advice. Working with Individuals, Couples, Families, Retirees and Businesses, we are able to maintain a steady flow of client interest. Depending on our client's needs, position and financial goals, we aim to provide advice on both short-term and long-term strategies.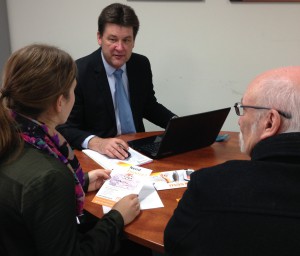 What you can gain with Vivid
As a Vivid Financial Planning authorised representative, you will be covered by our Australian Financial Services License (AFSL) and will be able to provide a range of financial advice to your clients.
These include:
– Superannuation
– Retirement Funding
– Self-Managed Super Fund
– Property Investment
– Investments
– Risk Insurance
– Debt and Risk Management
– Business Structuring
Depending on your current qualification level, you may need to undertake additional training or study to be able to advise on certain topics. If this is required, you can rest assured knowing that we will provide you with the needed support.
Business Development and Support
Whether you are an established professional or are just starting out in the industry, the right training and support is essential. We are very training focused and believe that a strong team is made of dedicated and resourceful team members. Under the guidance of our experienced team members and specialist staff, we can help you to develop your knowledge and capabilities.
When you become a Financial Planner with Vivid, you will have access to:
Business Development
Professional Coaching
Ongoing support; face-to-face, online and over the phone
Access to leading IT systems
Cloud-based accounting software
Monthly charging systems
Ongoing support
Marketing support and materials
Traditional
Online
Corporate branding
Membership to a network of likeminded professionals
Annual seminars and workshops
Social and professional networking
For further information or to make an appointment to discuss your opportunities with Vivid, please contact us below or call 1300 627 829