Develop you career with Vivid Financial Planning Group
It is said that a successful career is built on hard work, dedication and following the right opportunities. If you're considering your options in the Financial Services industry, you might find that your next big opportunity is with Vivid Financial Planning Group.
Over the past decade, Financial Planning services have developed into a unique and in-demand industry sector. As Australians have become more concerned with building and protecting their personal wealth, the need for knowledgeable and trustworthy financial planning professionals has increased. This industry shift has created an opportunity for new and experienced finance professionals to expand their career and move into Financial Planning or Advising.
At Vivid, we noticed this changed and moved our focus into the Financial Planning sector. We now provide expert, reliable and cost-effective solutions and advice to Individuals, Couples, Families, Retirees and Businesses around Australia. While our Head Office is based in Melbourne, our Financial Planners operate across multiple states and territories, and are regularly meeting with clients.
Joining Vivid Financial Planning Group
Avoid the hassle and expense of obtaining an Australian Financial Services License (AFSL). As a Vivid Financial Planning representative, you will be covered by our AFSL, and will be able to work towards providing meaningful and useful financial advice to clients. As you develop your knowledge, experience and relevant qualifications, you will be able to advise on a variety of topics and financial areas.
These include:
– Superannuation
– Self-Managed Super Fund
– Property Investment
– Investments
– Risk and Personal Insurances
– Debt and Risk Management
– Business Structuring
Depending on your current qualification level, you may need to undertake additional training or study to be able to advise on certain topics.
Professional Development and Support Systems
At Vivid Financial Planning, we are very training focused and can assist you to establish a well-rounded, confident understanding of your work. To ensure that you have the opportunity to enhance your role and career, we provide several business and professional development systems.
These include:
Business Development
– Professional Coaching
– Ongoing support; face-to-face, online and over the phone
Leading IT systems
– Cloud-based accounting software
– Monthly charging systems
– Ongoing support
Marketing
– Traditional and Digital
– Support and resources
Join a network of like-minded professionals
– Annual seminars and workshops
– Social and professional networking
Take the next step in your career and assist your local and wider community to achieve their financial goals. At Vivid Financial Planning Group, we pride ourselves on using technology and sound financial practices to deliver premium advice and help real Australians build and protect their wealth.
Related: Learn more about OUR PEOPLE at Vivid Financial Planning Group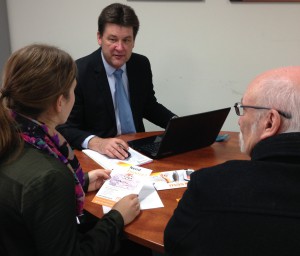 For further information or to make an appointment to discuss your opportunities with Vivid, please contact us below or call 1300 627 829